WABI-SABI Dining will host an event featuring internationally acclaimed chef Masamichi Saito, pairing his gem of a wine collection with Japanese Italian cuisine.
About this Event
WABI-SABI Dining is honored to announce this pairing event with internationally acclaimed chef Masamichi Saito, our guest will be able to enjoy a collaboration of his exceptional wine collection and Japanese Italian cuisine. WABI-SABI Dining's very own chief sommelier, Chiyomi Kawai, and the owner will personally select premium wines from around the world, while Chef Masamichi Saito and Chef Terashima of WABI-SABI Dining will whip up a creative and inspiration course for you with seasonal ingredients. We guarantee that this one of a kind gastronomic experience will be leave a special memory for your lovely night.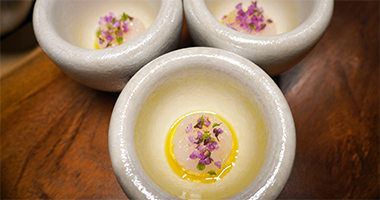 Event Schedule
This event will be held at two days at WABI-SABI Dining.
Both events are limited to 8 people each.
| | | |
| --- | --- | --- |
| March 30th, Part 1 | 6:00PM to 8:00PM | 8 PAX |
| March 30th, Part 2 | 8:00PM to 10:00PM | 8 PAX |
Wine Pairing Dinner
The menu is "omakase" menu course only with wine pairing, priced at 500 SGD per person.
メニュー
1. Tosazu vinegar jelly / Glass shrimps
Ginten Suiryu sparkling sake
2. Monkfish liver terrine / Black truffles
Kenzo Estate Yui 2019
3. Round Greeneyes fish fritto/ Cauliflower / Yuzu citrus pepper
Penfolds Yattarna Chardonnay 2003
4. Risotto with Aya pork collar
Domaine Nicole Lamarche Vosne-Romanee 1er Cru Les Suchots 2018
5. Rossini with Akagi wagyu beef and Foie Gras
Caymus Vineyards Cabernet Sauvignon Special Selection 2001
6. "The greatest milk" gelato from Uno farm/ Japanese apples
Chateau Coutet Barsac (Grand Cru Classe)
$500++ PER PERSON
Location
https://wabisabi-dining.com
207 River Valley Road #01-60 UE Square 238275
(Mohamed Sultan Rd side)
Call Us: +65-8126-2395 or WhatsApp
Chefs and Sommelier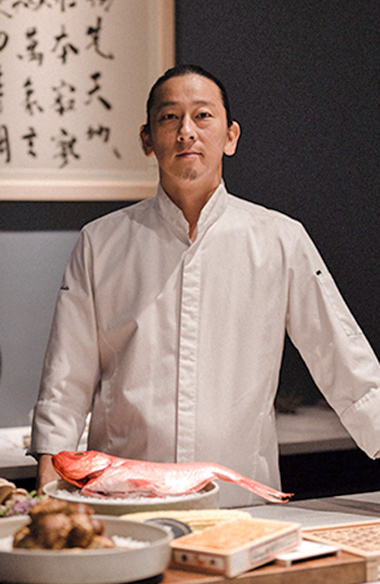 Masamichi Saito
Chef @ Masa Saito
Born in 1980 in Kagurazaka, Tokyo. Spent his childhood with an architect father and a ceramicist sister, and started his culinary career at the age of 15. After training in Italian cuisine at a famous restaurant in Ginza, he opened a handmade café in Okinawa in 2005. In 2010, he was posted to the Embassy of Japan in Stockholm as Chef de Cuisine at the official residence of the Embassy of Japan in Stockholm. He has also demonstrated his skills as an advisor since his arrival in 2014 as Japanese Cuisine Chef. In 2019, he will become the ambassador for Higashine City in Yamagata Prefecture, and in 2022, he will open
Masa Saito
as the owner-chef. He is currently developing his multi-faceted activities.
Atsushi Terashima
Chef @ WABI-SABI Dining
Atsushi Terashima was born in Nagano, Japan in 1975, and moved to Tokyo at the age of 18. After graduating from college, he started at Italian restaurant "Osteria" in Roppongi at the age of 23, where he fell in love with Italian cuisine. After working at "Canoviano" in Daikanyama, he then decided to pursue his passion from the origin — Italy at the age of 26. After spending two years at the first 3-star "Don Alfonso" in southern Italy and the 2-star "Arnolfo" in Siena, he returned to Japan and opened his very own Italian restaurant "L'oasina" with his friend in Minami Aoyama. In 2019, he brought Japanese-pizza restaurant brand to Singapore, and then joined Wabisabi Dining as a head chef in 2021.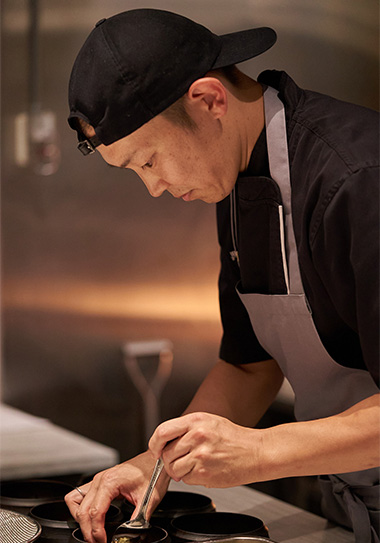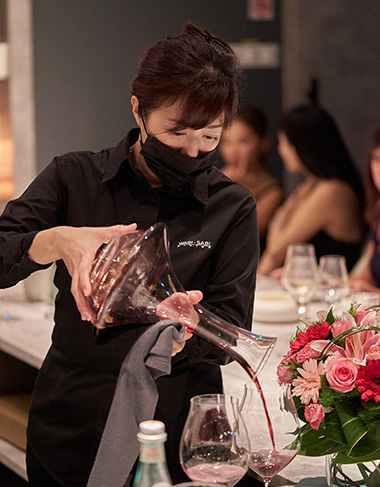 Chiyomi Kawai
Sommelier @ WABI-SABI Dining
While working at the WineBar in Ginza, Chiyomin was one of the most excellent disciple of Shinya Tasaki, the first Japanese to win the World's Best Sommelier Coeur Coeur d'Or in 2005.
She then received his sommelier certification in 2006 and came to Singapore in 2011 to work as a sommelier.
Since 2015, she became the head of sales of Kenzo Estate Wine for Asia Pacific region. Kenzo is a Napa Valley winery owned by Kenzo Tsujimoto, the founder of Japanese video game company Capcom. We are honored to have Chiyomin joined Wabisabi Dining as the Chief Sommelier from 2021.