Special Collaboration Event with Executive Chef Takayama, Singapore's top one-star restaurant chef from Takayama @WABI-SABI Dining.
About this Event
We are pleased to invite Executive Chef Taro Takayama of Takayama, Singapore's top one-star restaurant, to join Chef Terashima of WABI-SABI Dining for an exquisite and quintessential dining event. Executive Chef Takayama is well known as a culinary artisan who pursues authenticity and meticulous simplicity in Japanese cuisine.
From delicate sashimi to savory pasta, we hope you will enjoy this symphony of flavors.
An evening of gastronomic innovation will be showcased at this special dining event with a stunning fusion of Japanese and Italian cuisine, accompanied by wines carefully selected by WABI-SABI Dining's sommelier. Don't miss this unique fusion feast!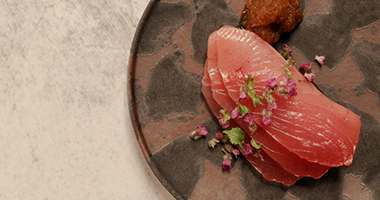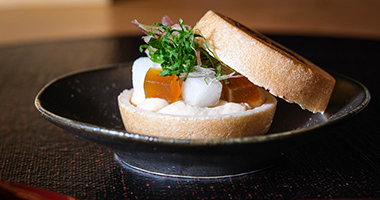 Event Schedule
This event will be held at WABI-SABI Dining on November 20 with a limited course for 13 people.
November 20th PM 7:00 to PM 10:30
With wine pairing 10PAX
No wine pairing 3PAX
Wine Pairing Dinner
The menu is "omakase" menu course only. The course with wine pairing is 580 SGD per person and limited to 10 persons, while the course without pairing is 350 SGD per person and limited to 3 persons.
Menu
1. Amuse
2. Jewel box crab(female snow crab), Karasumi, Nori seaweed, chilled cappellini
Royal Riviera Brut NV (Champagne)
3. Usuzukuri (thinly sliced sashimi), ume-shu plum dressing
WABI-SABI original Ume-shu
4. Cod milt gratin, abalone, winter spinach
Corton Charlemagne Grand Cru 2017
Vincent Girardin Quintessence
5. Deep fried Tilefish, Matsutake consommé soup, Ginkgo nuts
Yui 2021 Rose Kenzo Estate
6. Wagyu beef chateaubriand, Black truffles, Rossini style, white miso sauce
Echezeaux Grand Cru 2017
Lucien le Moine
7. Mont Blanc
Fine de Bourgogne Lemmon cocktail
Domaine de l'Arlot
8. Maccha and Hoji-cha Financier
9. Coffee/ Tea
With wine pairing $580++ PER PERSON (10PAX)
No wine pairing $350++ PER PERSON (3PAX)
Location
https://wabisabi-dining.com
207 River Valley Road #01-60 UE Square 238275
(Mohamed Sultan Rd side)
Call Us: +65-8126-2395 or WhatsApp
Chefs and Sommelier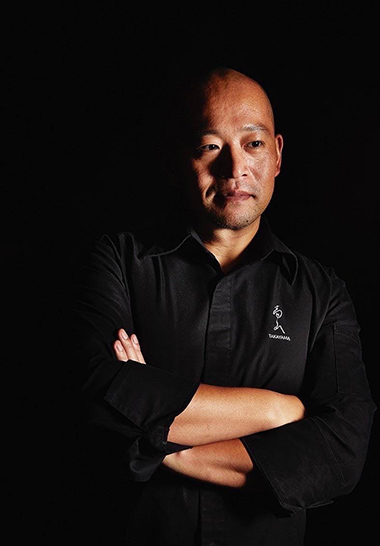 Taro Takayama
Executive chef from Takayama
He hails from Wakayama, one of the most famous ramen and scenic spots in Japan, close to Osaka. He started his career as a chef at three Michelin starred restaurants in Osaka, Senriyama "Kashiwaya" and Kitashinchi "Koryu". In 2013, only eight years after he started his culinary career, he was appointed as a Master Chef at the official residence of the Japanese Ambassador to Singapore. He has served celebrities and dignitaries including Japan's Crown Prince and Prime Minister Shinzo Abe. After gaining a deep understanding of Singapore's cultural diversity and local cuisine, he remained in Singapore and was appointed Chef de Cuisine at Mandarin Orchard Singapore. At Takayama, where he currently serves as Executive Chef, he has earned a reputation for his artisanal cuisine that celebrates the authentic flavors and meticulous simplicity of Japanese cuisine.
Atsushi Terashima
Chef @ WABI-SABI Dining
Atsushi Terashima was born in Nagano, Japan in 1975, and moved to Tokyo at the age of 18. After graduating from college, he started at Italian restaurant "Osteria" in Roppongi at the age of 23, where he fell in love with Italian cuisine. After working at "Canoviano" in Daikanyama, he then decided to pursue his passion from the origin — Italy at the age of 26. After spending two years at the first 3-star "Don Alfonso" in southern Italy and the 2-star "Arnolfo" in Siena, he returned to Japan and opened his very own Italian restaurant "L'oasina" with his friend in Minami Aoyama. In 2019, he brought Japanese-pizza restaurant brand to Singapore, and then joined Wabisabi Dining as a head chef in 2021.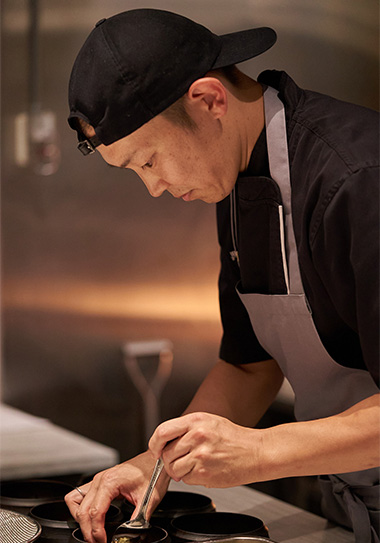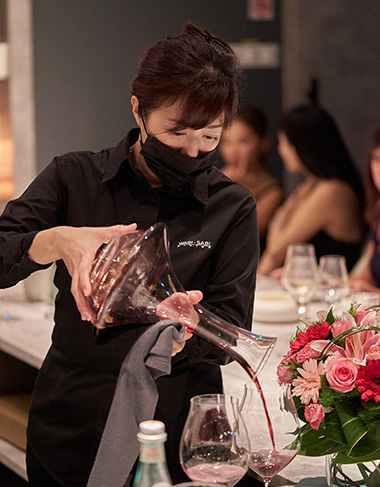 Chiyomi Kawai
Sommelier @ WABI-SABI Dining
While working at the WineBar in Ginza, Chiyomin was one of the most excellent disciple of Shinya Tasaki, the first Japanese to win the World's Best Sommelier Coeur Coeur d'Or in 2005.
She then received his sommelier certification in 2006 and came to Singapore in 2011 to work as a sommelier.
Since 2015, she became the head of sales of Kenzo Estate Wine for Asia Pacific region. Kenzo is a Napa Valley winery owned by Kenzo Tsujimoto, the founder of Japanese video game company Capcom. We are honored to have Chiyomin joined Wabisabi Dining as the Chief Sommelier from 2021.