The second week of the event was held on 13th-15th of September, staged at Masa Saito with a beautiful open kitchen serves as stage for chef to showcase his culinary skills.
This full-course meal will allow you to experience Chef Maeda's quintessential style of wood-fire cooking closely. His fondness for quality ingredients and versatile cooking techniques allows him to create exquisite flavours inspired by the east and the west.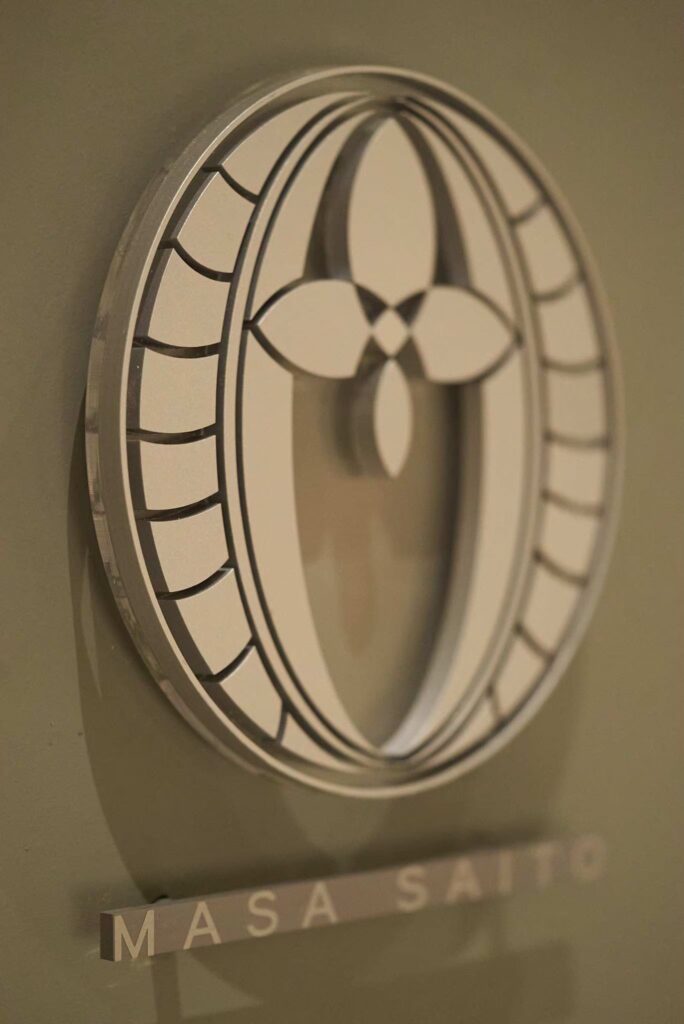 Fine food and fine wine are inseparable, WABI-SABI Dining very own sommelier Chiyomi have also selected a special line-up of wines to pair with each dish to give our guests an eccentric gastronomic experience.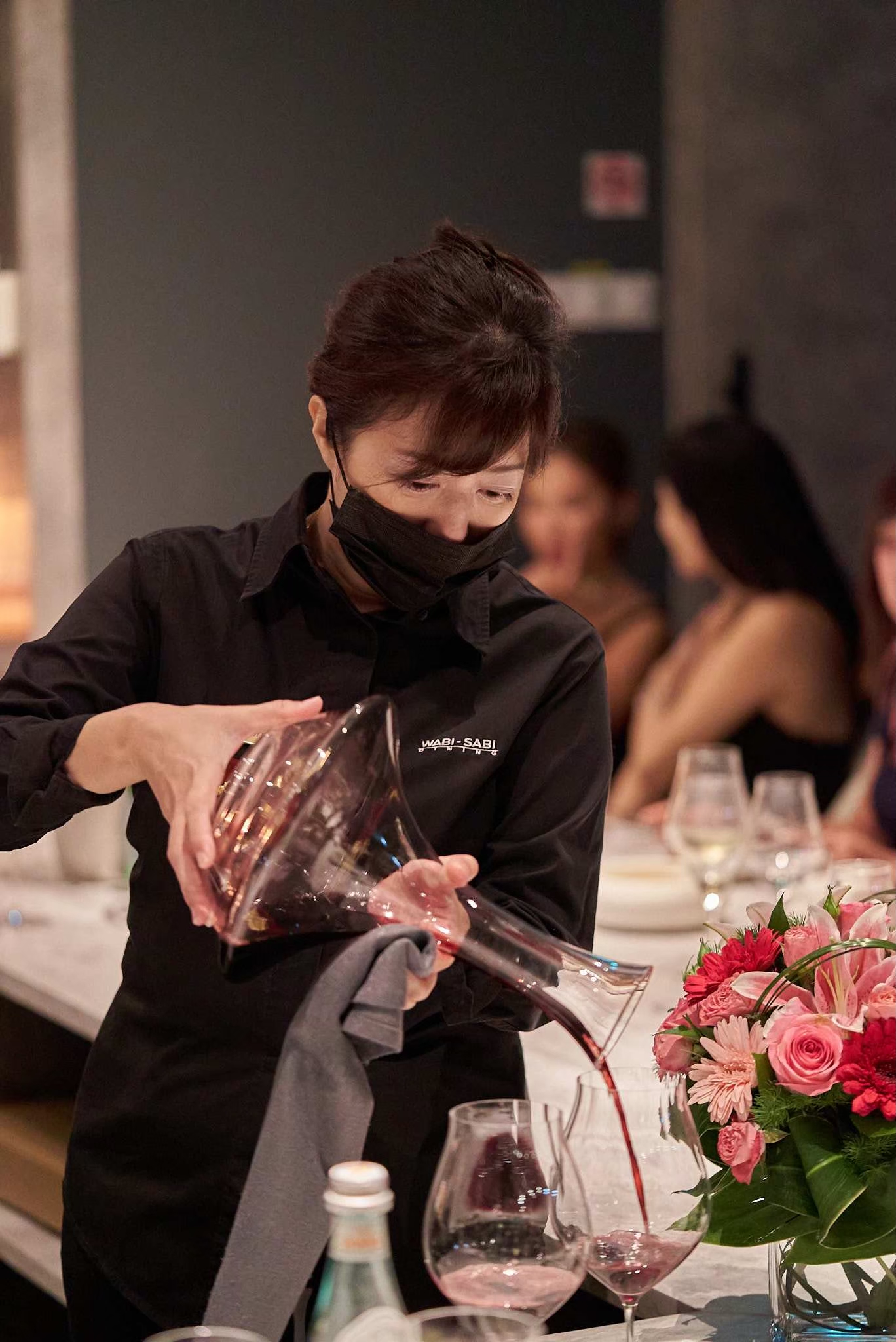 Here are the 2 wines featured in the event.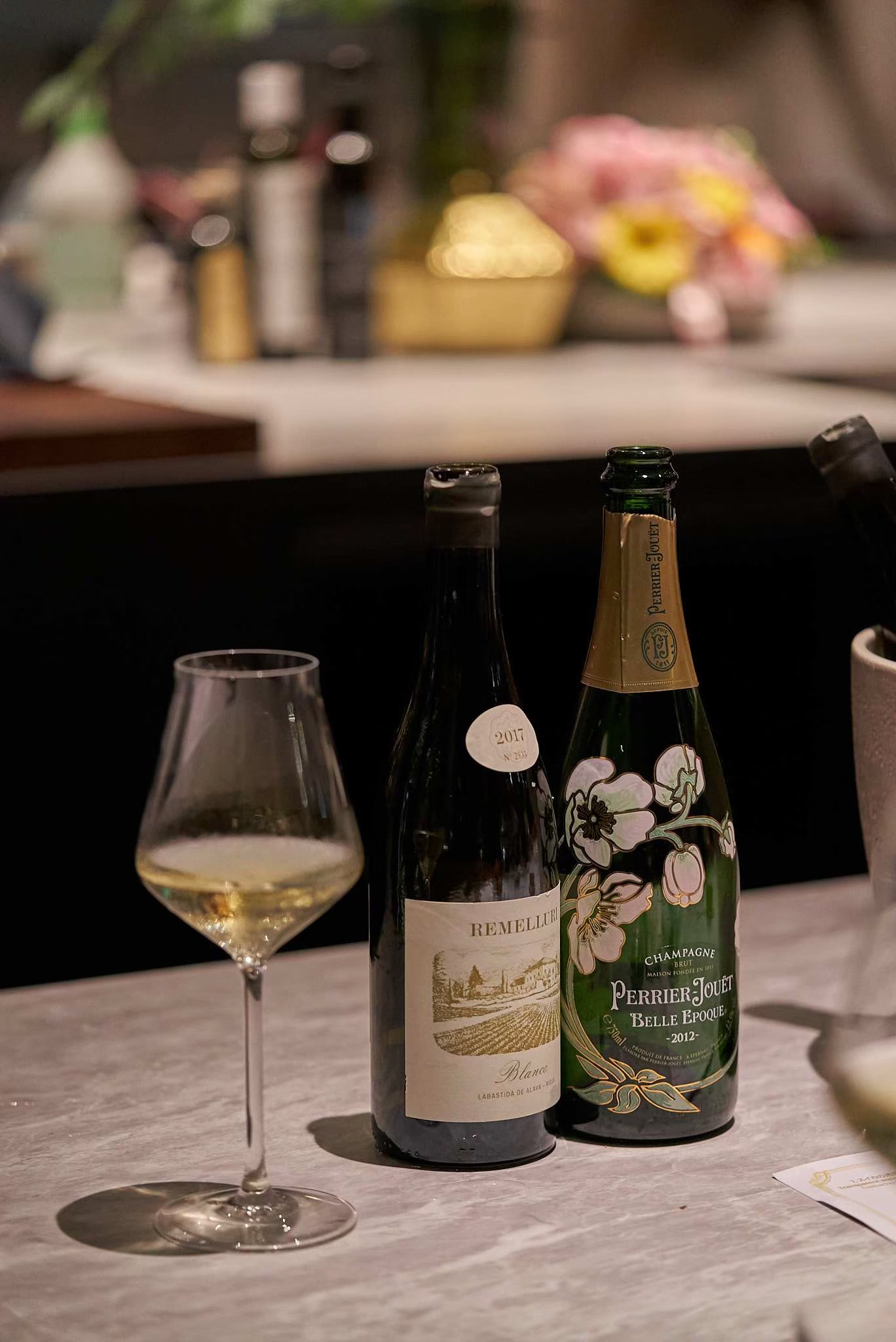 The beautiful Remelluri Blanco on the left is blend of nine different white wine varieties, with complex and beautiful fragrant of ripe pears, ginger and chamomile. It pairs perfectly with shell fish (spoiler alerts). While the classic Perrier Jouet Cuvee Belle Epoque is delightful and gentle with all qualities of a great champagne.
The first course was a impactful yet appetizing start with robust and bold flavours.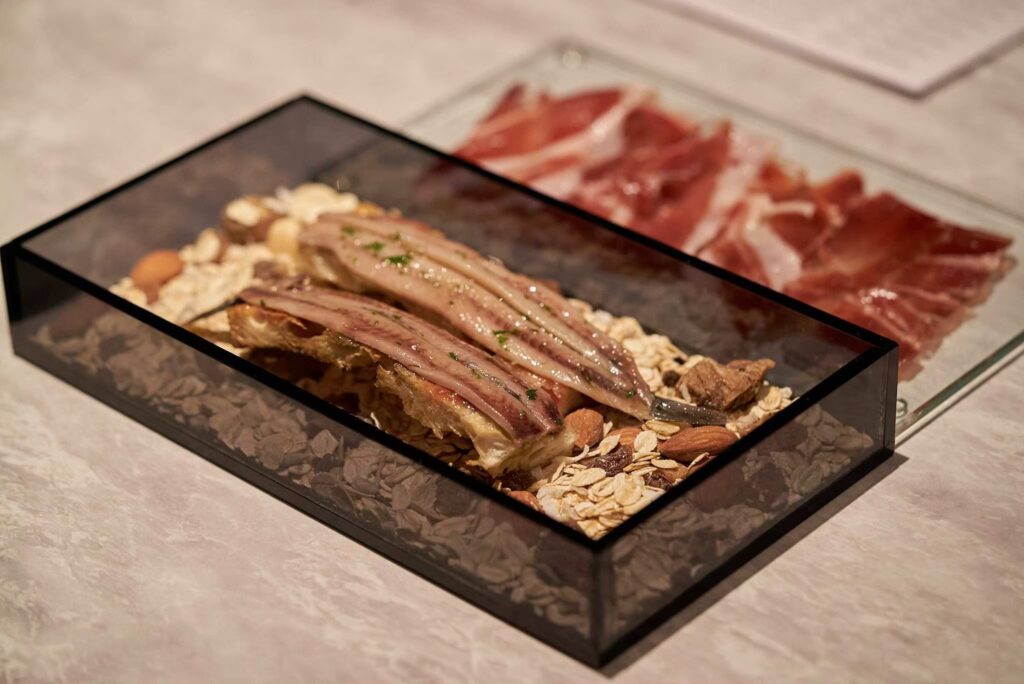 Sink your teeth into these savoury delicacies, laden over a crisp home-made crispy bread bar and drizzled with olive oil. These high quality anchovies are larger than the usual ones, which were brought from Spain by Chef Maeda exclusively for this event. The saltiness, acidity, and smokiness are overall well-balanced.
If the first dish was a simple pleasure, the dish following was definitely a guilty treat.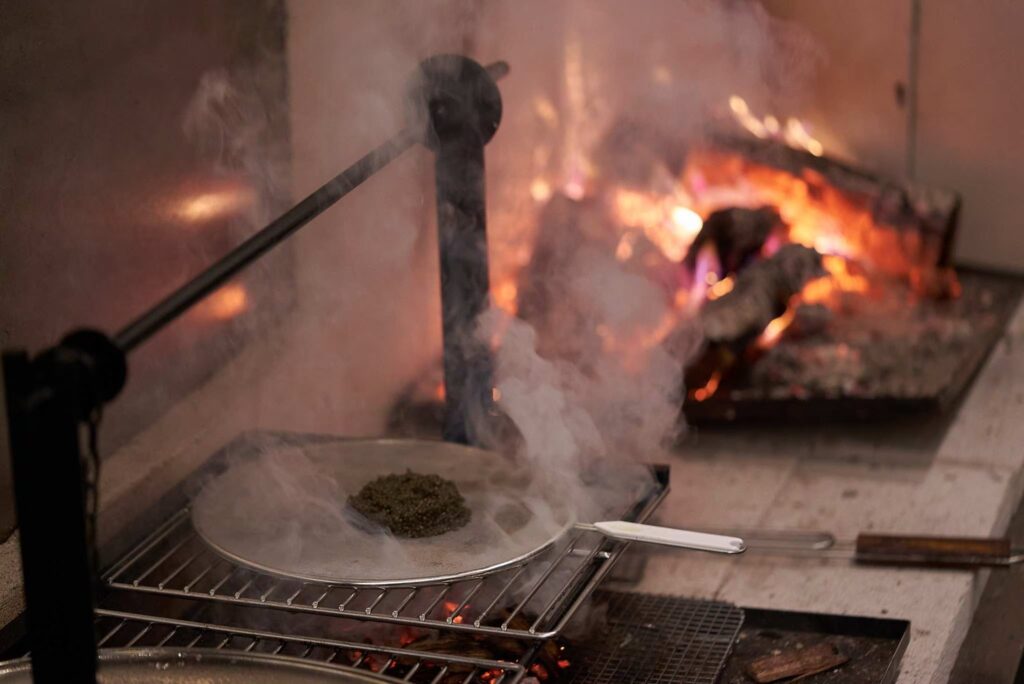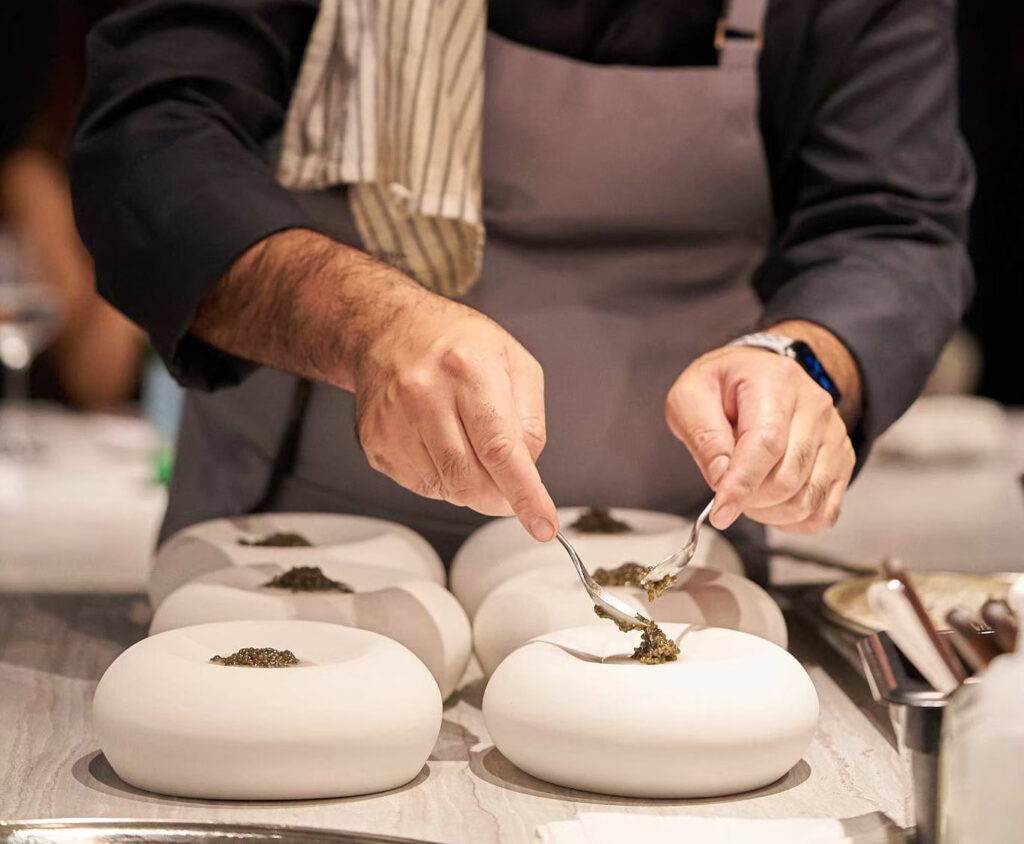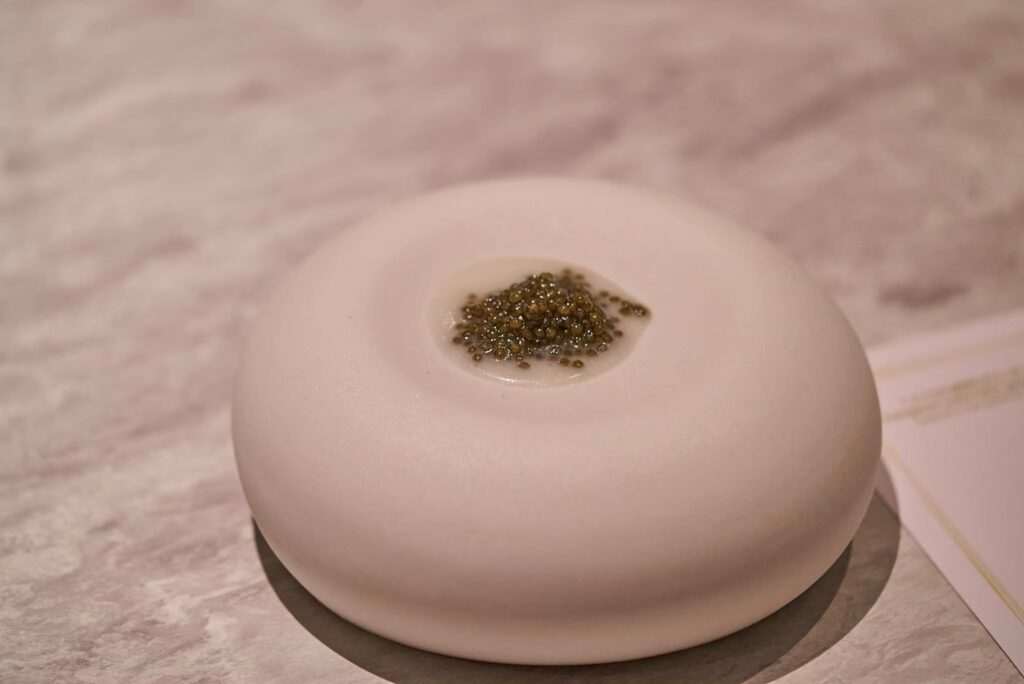 I bet very few of you has ever tried this combination – Caviar on lard made by Iberico fat. Caviar was gently smoked over wood-fire (which was Chef Maeda's speciality) and placed on a pile of pure, soft lard extracted from Iberico. The taste is as harmonious as you can imagine. The saltiness of the caviar cleanly cuts through the richness of the fats, adding umami to the lard mixture, while the lard brings out loads of flavours and rounding off the bite with a heavenly and silky-smooth mouth-feel.
This tomato and bonito dish is a nod to Japanese cuisine with hints of Spanish influences. Tender bonito combined with refreshing tomato and topped with Japanese ginger flower.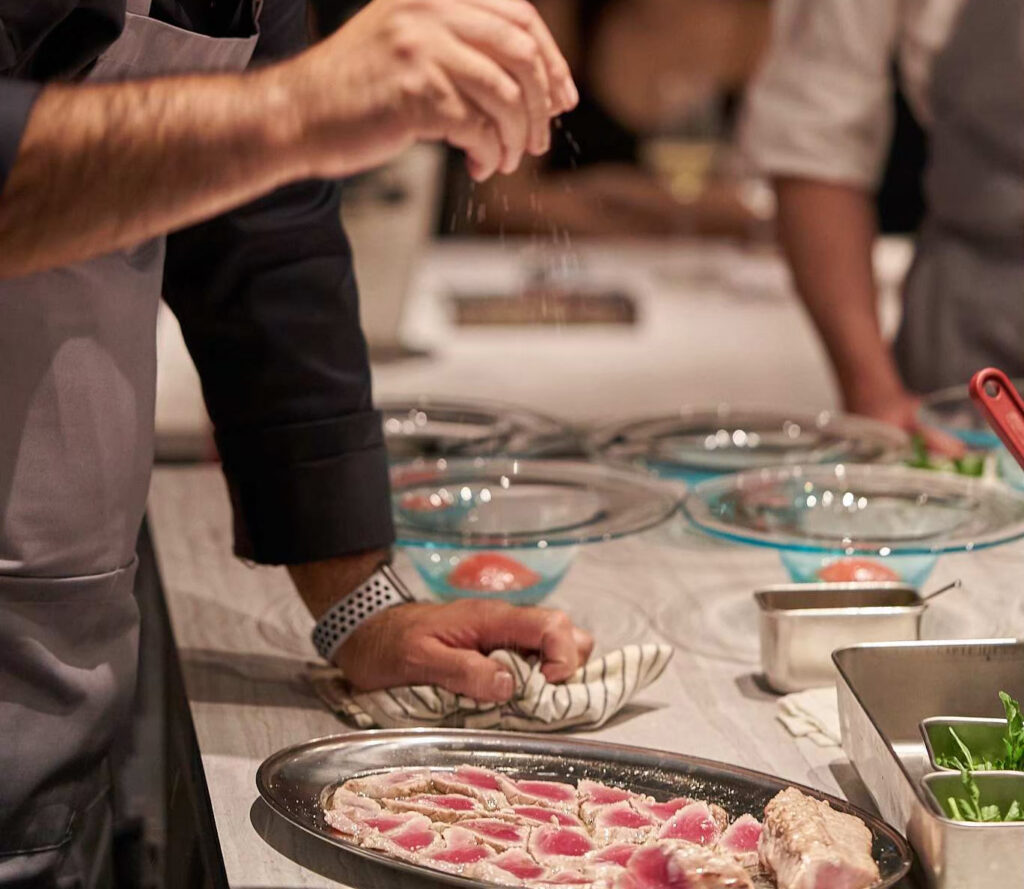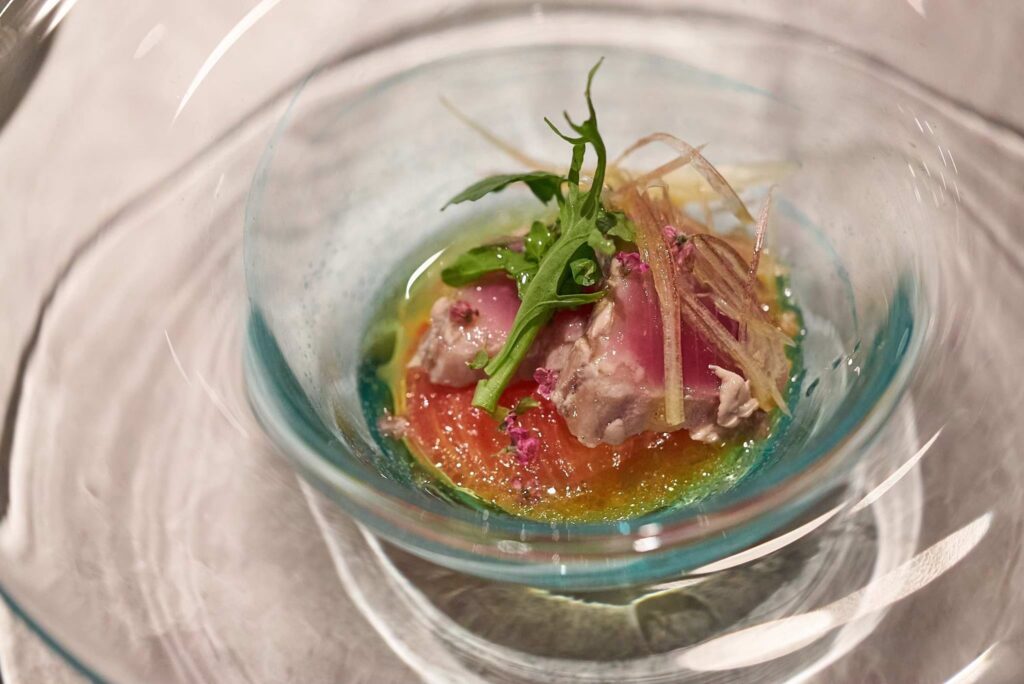 To continue the course,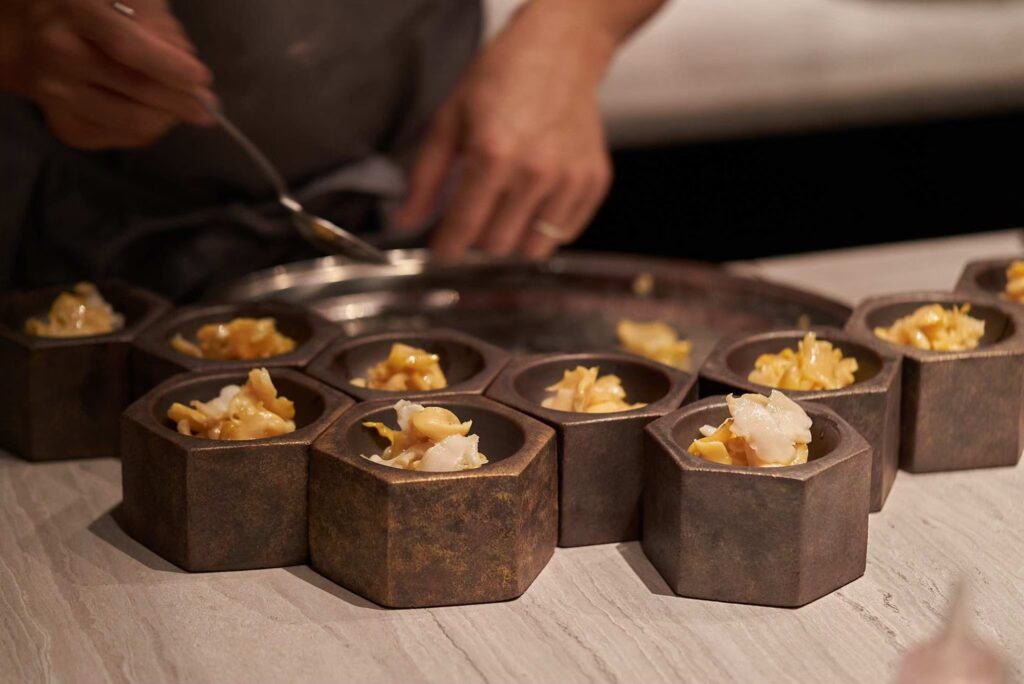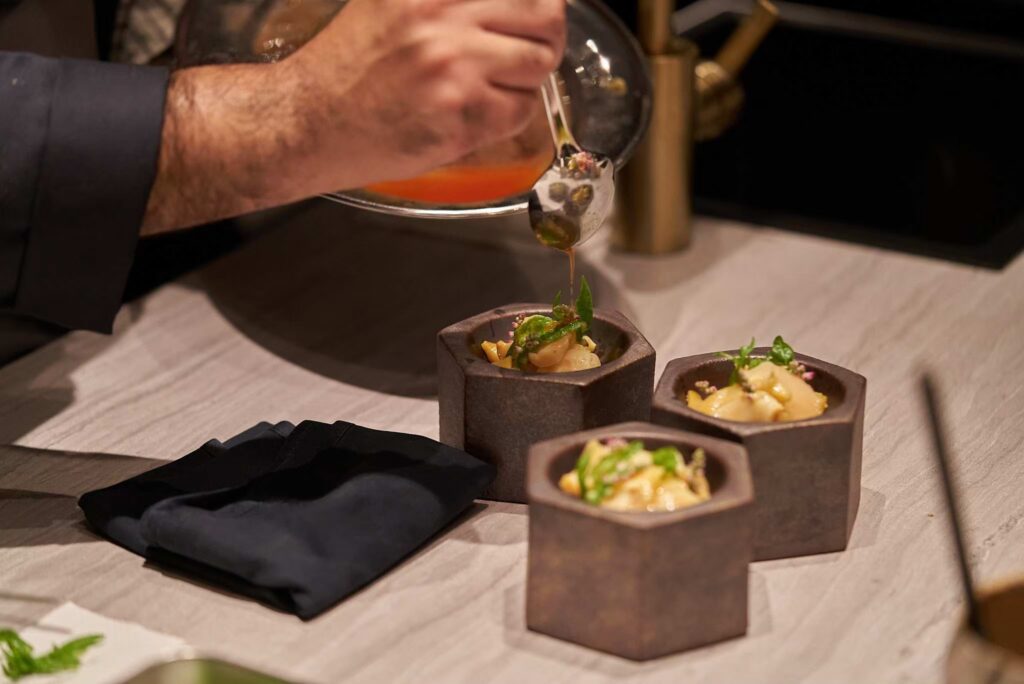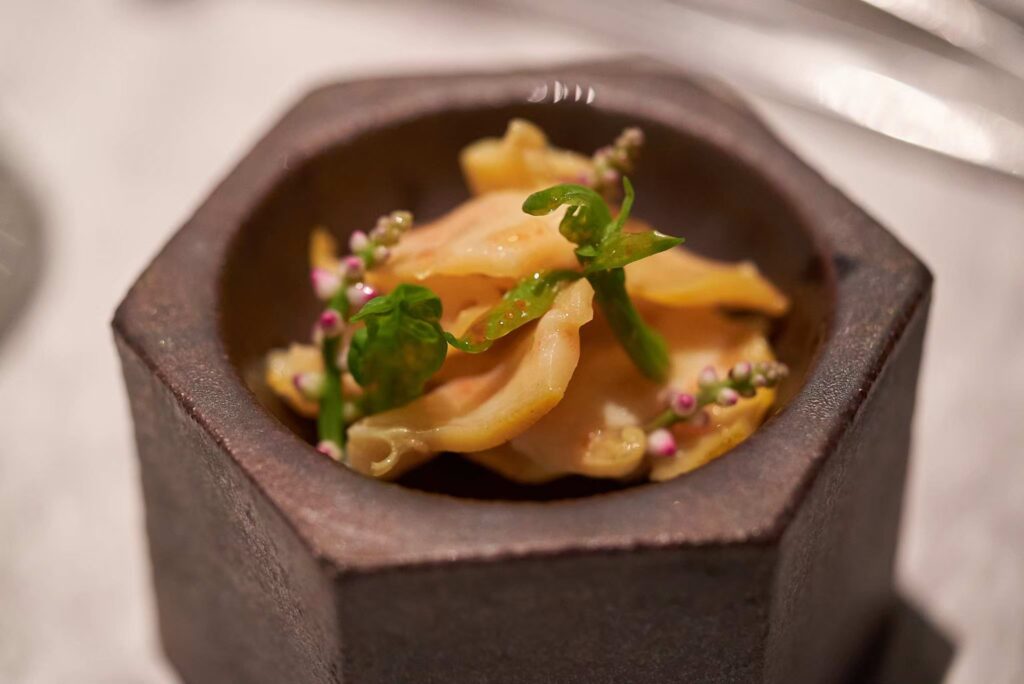 These fleshy Japanese Babylons are sliced to a 5mm thick. In this way, the texture is retained and yet not too chewy. Drizzled with tangy dressing with s tinge of spiciness to bring out the flavours of the bounty ocean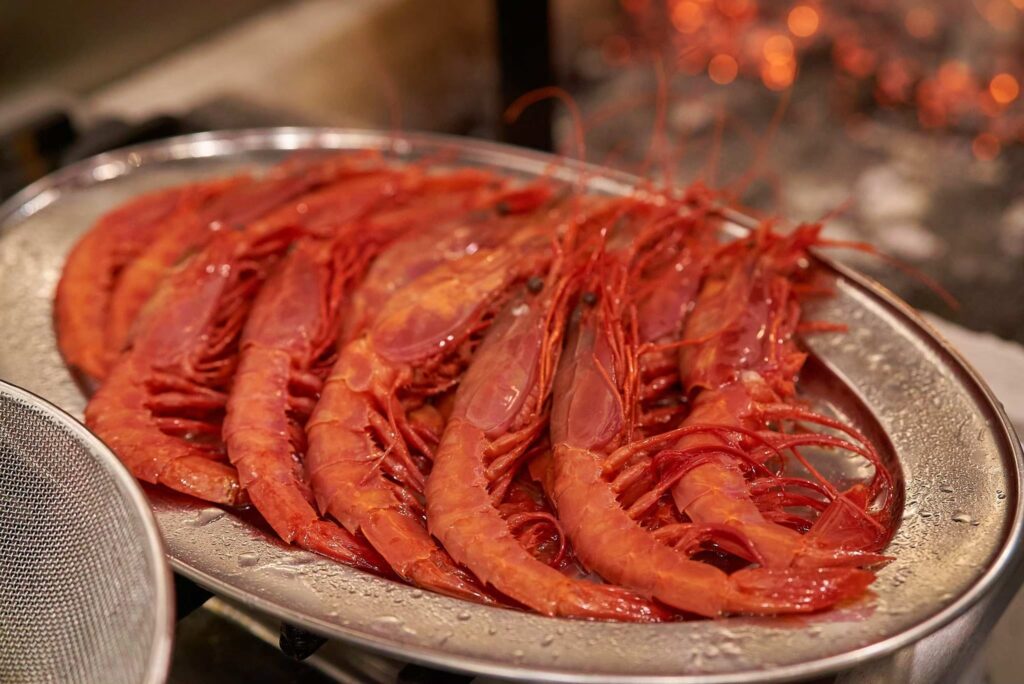 Before we have even tasted the next dish, everyone was immediately captured by these beautiful creatures. These Spanish shrimps are bright red even before cooked, and they are well-loved for their sweet flesh and strong seafood taste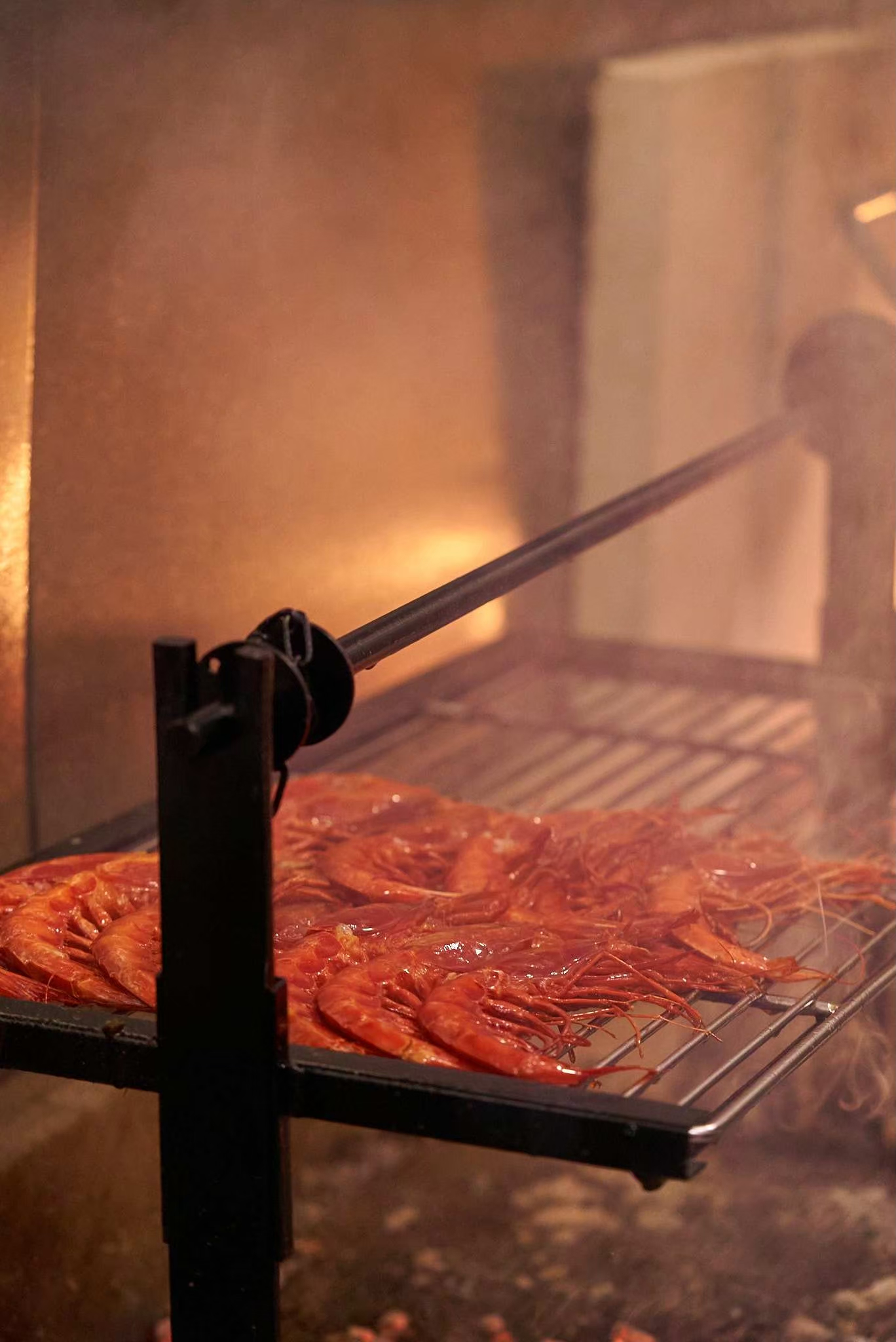 Chef Maeda gently grill them till a perfect medium rare.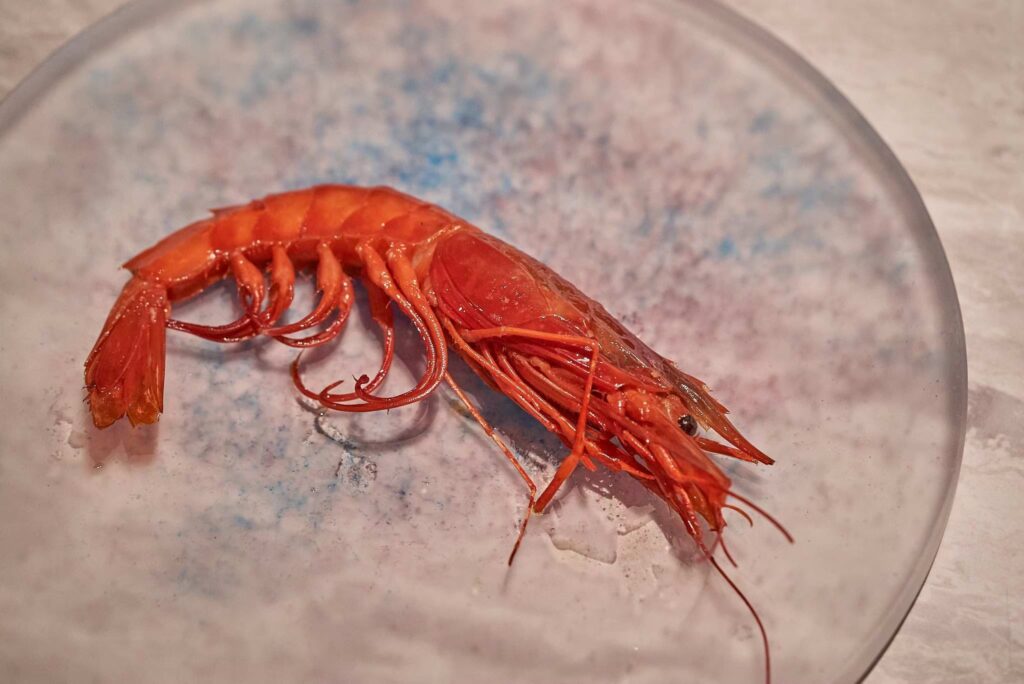 Simple ingredients and perfect execution are what it takes to make this a quintessential Spanish dish.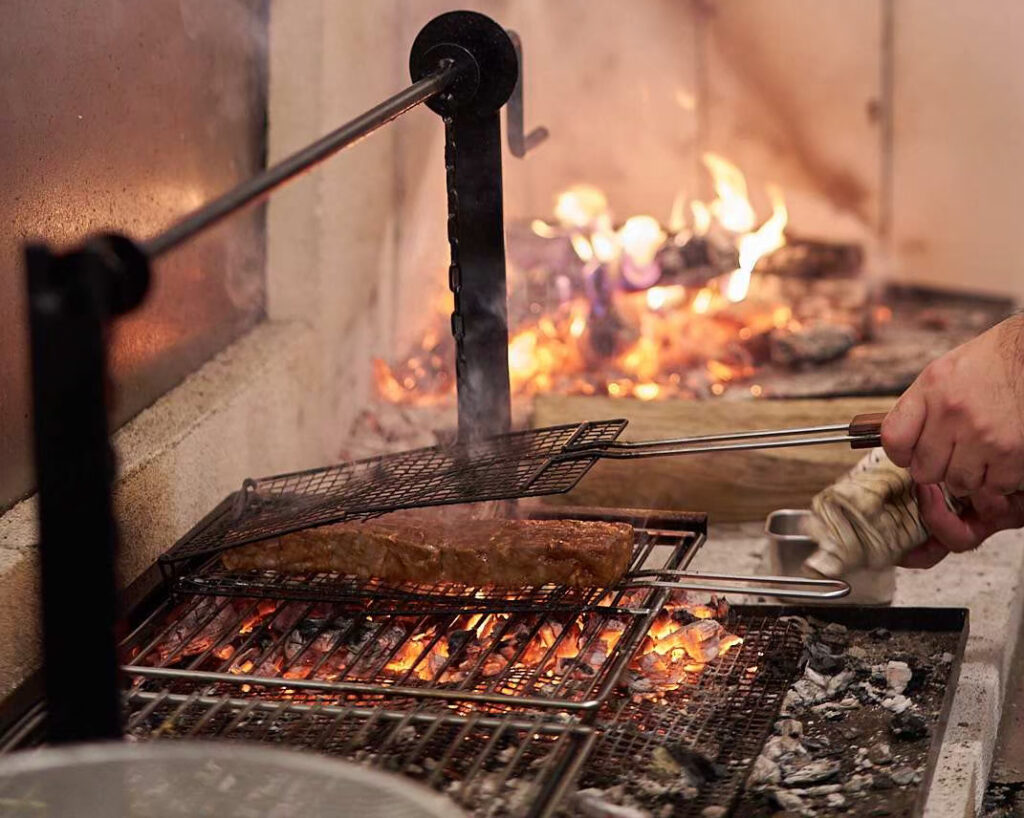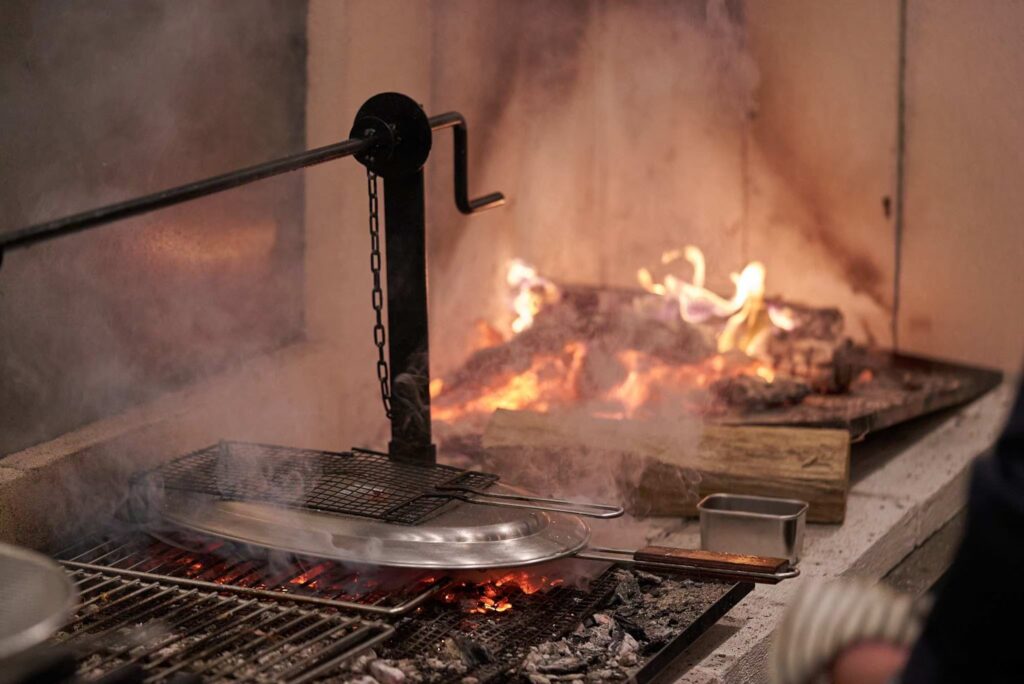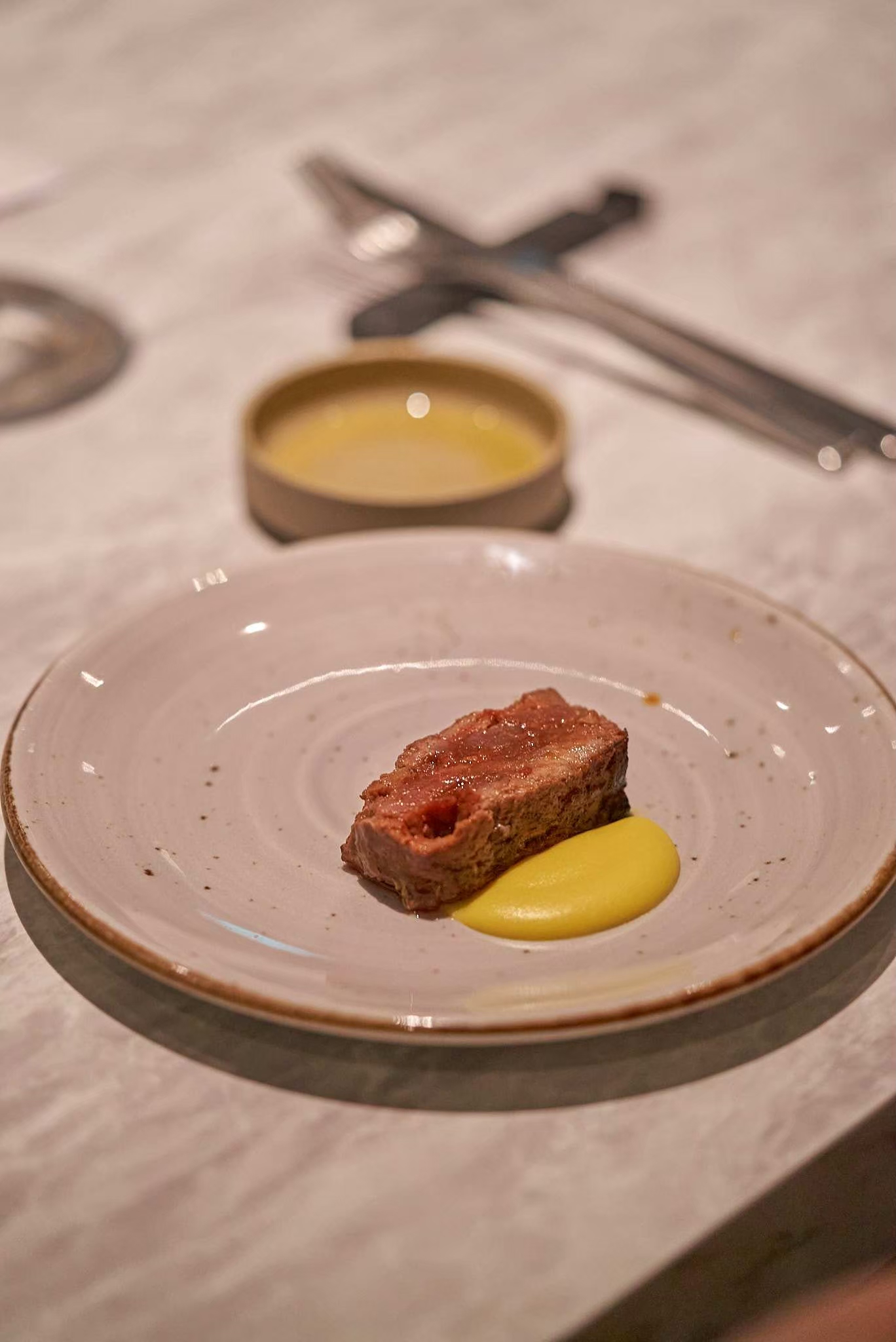 This rendition of Chorizo with corn puree has surprised every guests. In contrary to the normal chewy chorizo with coarse minced meat, This one is almost like a tender steak! First, it was cooked at a low temperature to keep the meat soft and juicy, then finished off over wood fire at a high temperature to create a charred exterior. The result is a heavenly piece of meaty goodness.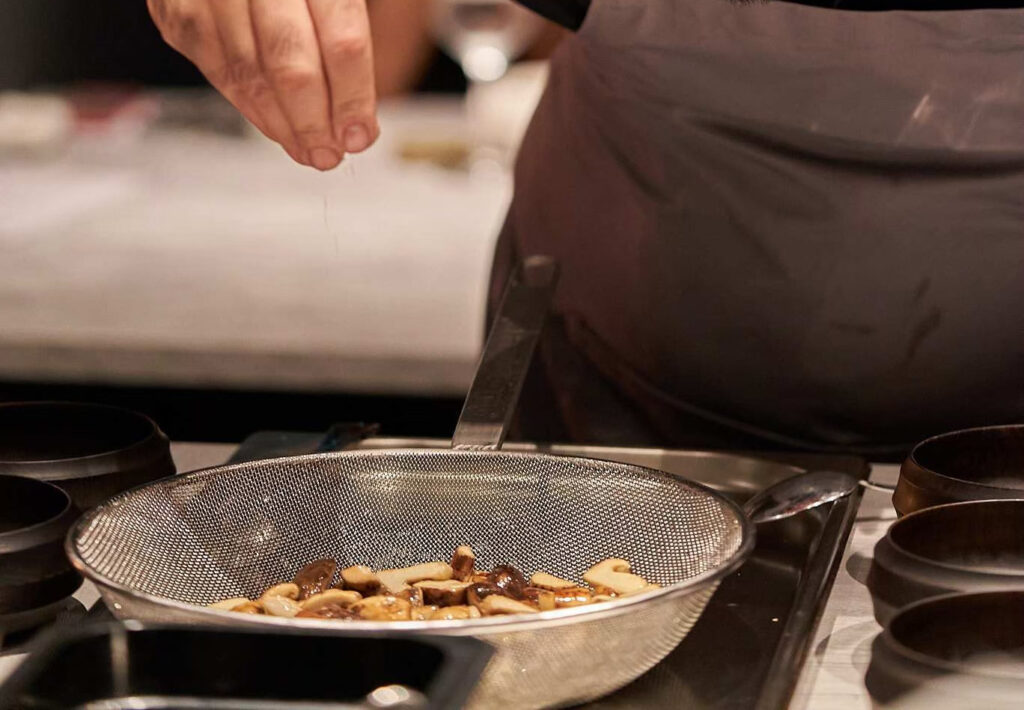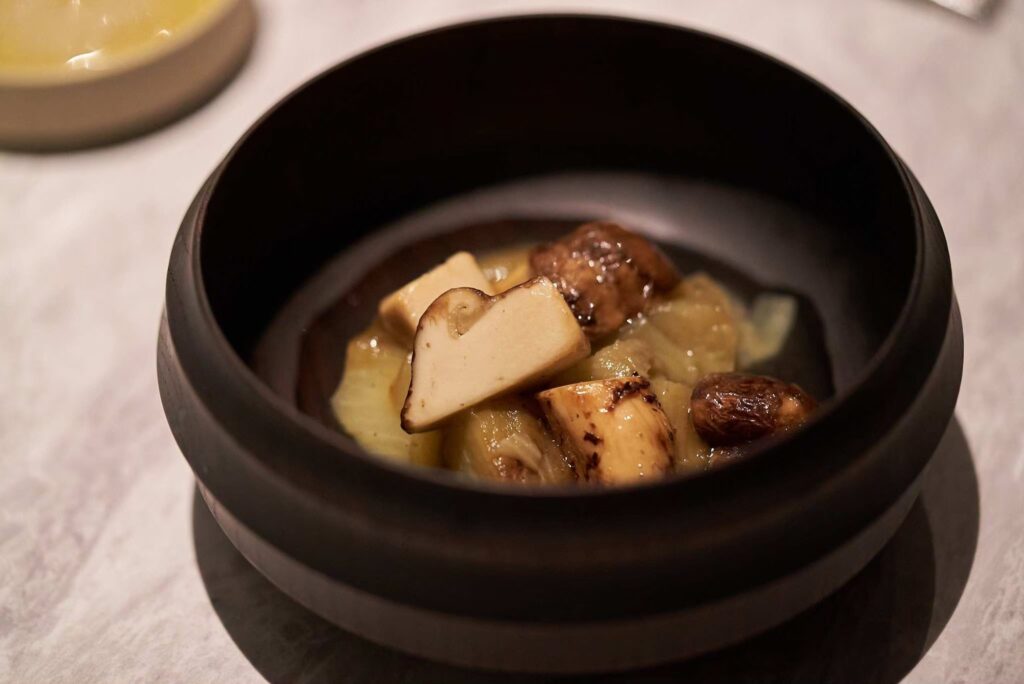 You know you are in for a treat when you see the word "matsutake". September is just the season for matsutake. This precious fungus is probably the most expensive mushroom in the world with prices that rival black truffle. These earthy and piney mushrooms combined harmoniously with ham and eggplant, adding umami to the dish.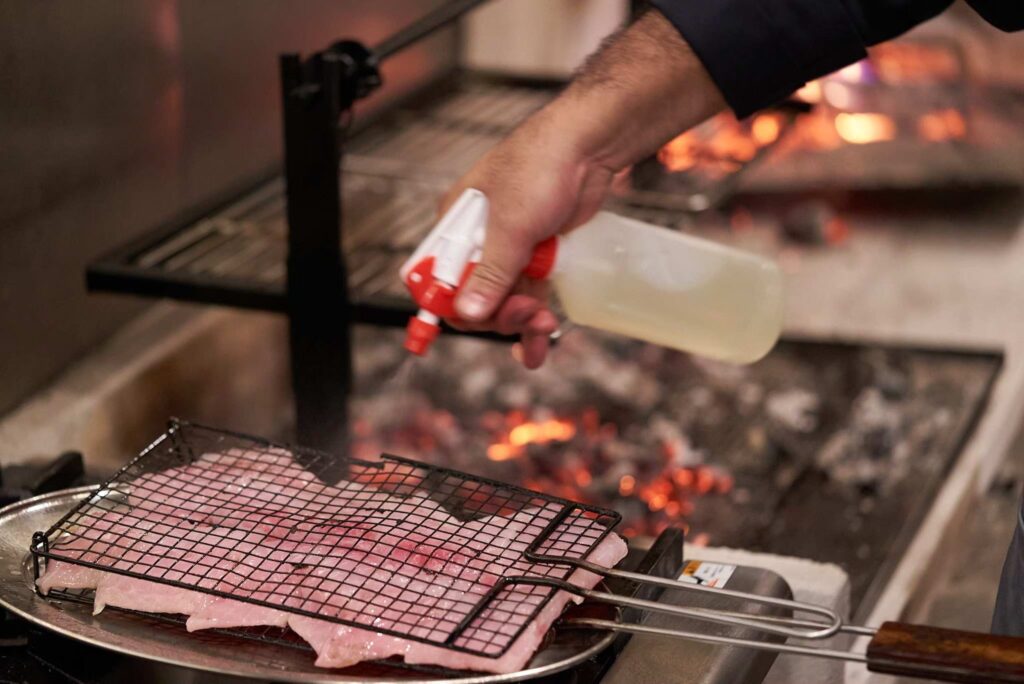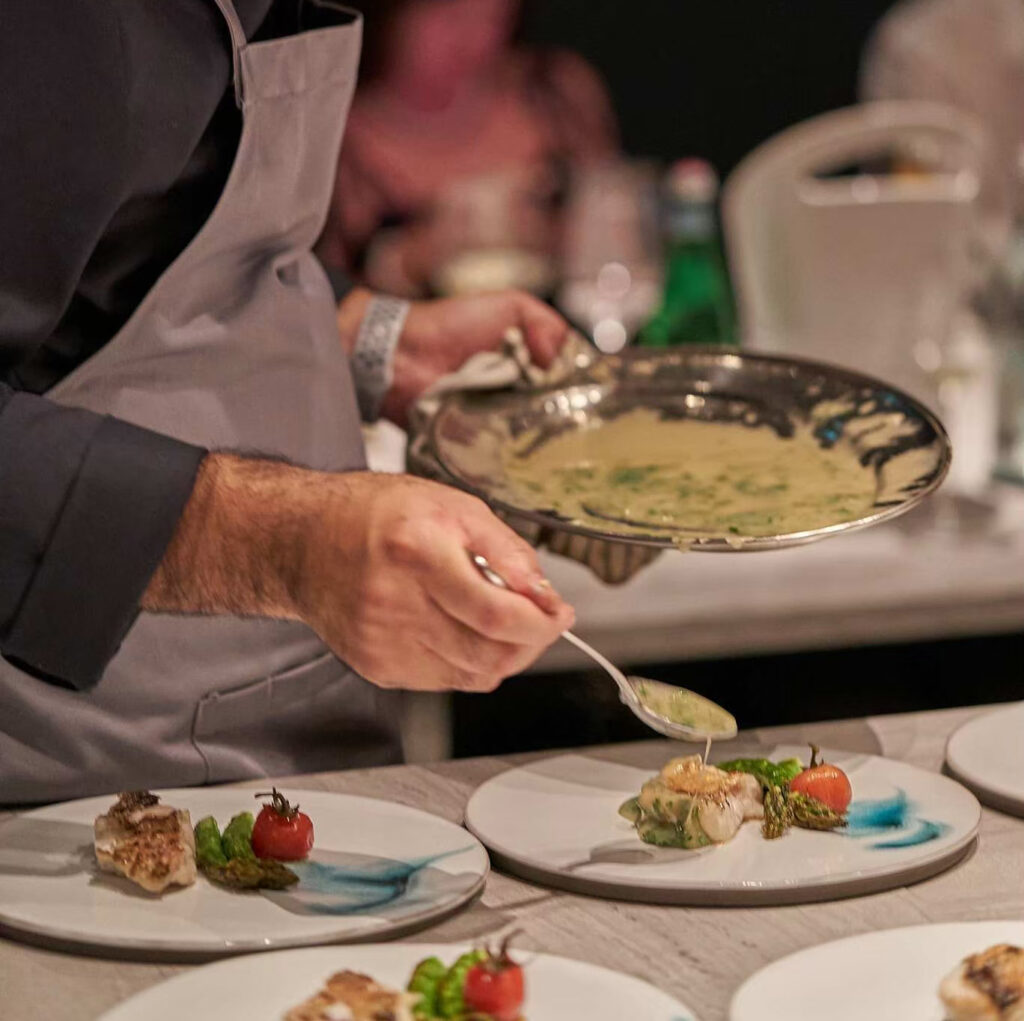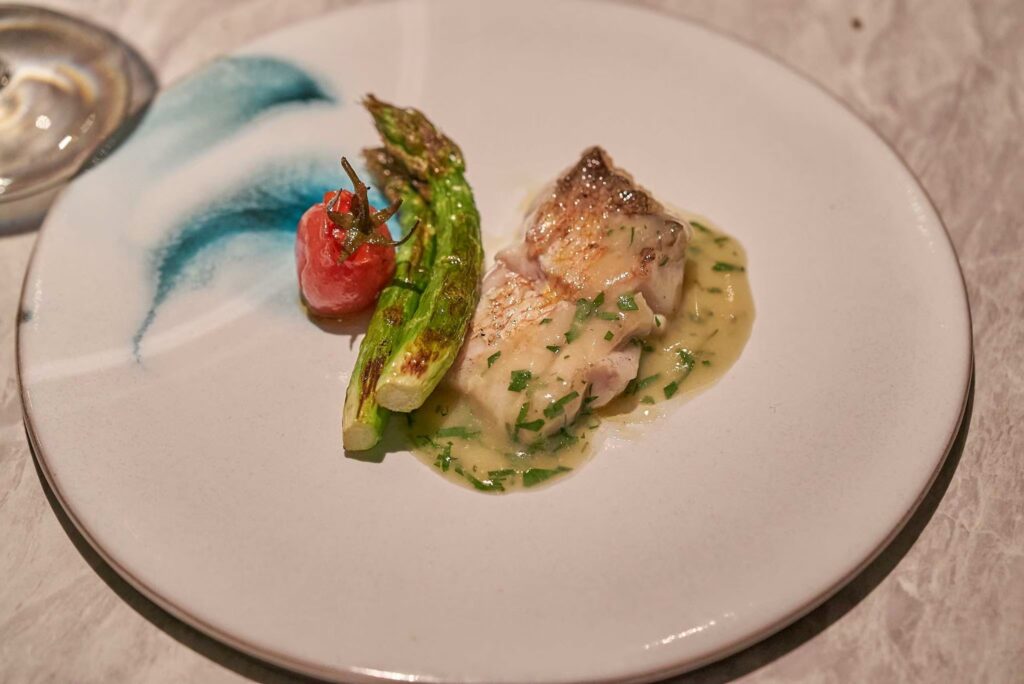 Sake kasu is a byproduct of Japanese sake, it not only has a mellow flavor of sake but also has very high nutritional value, and. While the tile fish in this dish boasts a tender yet springy texture, Chef Maeda has combined these amazing main characters seamlessly into one, creating a delicate interplay of flavors that transport you into a gastronomic heaven.
Finally here comes the star of the night – The Txuleta steaks.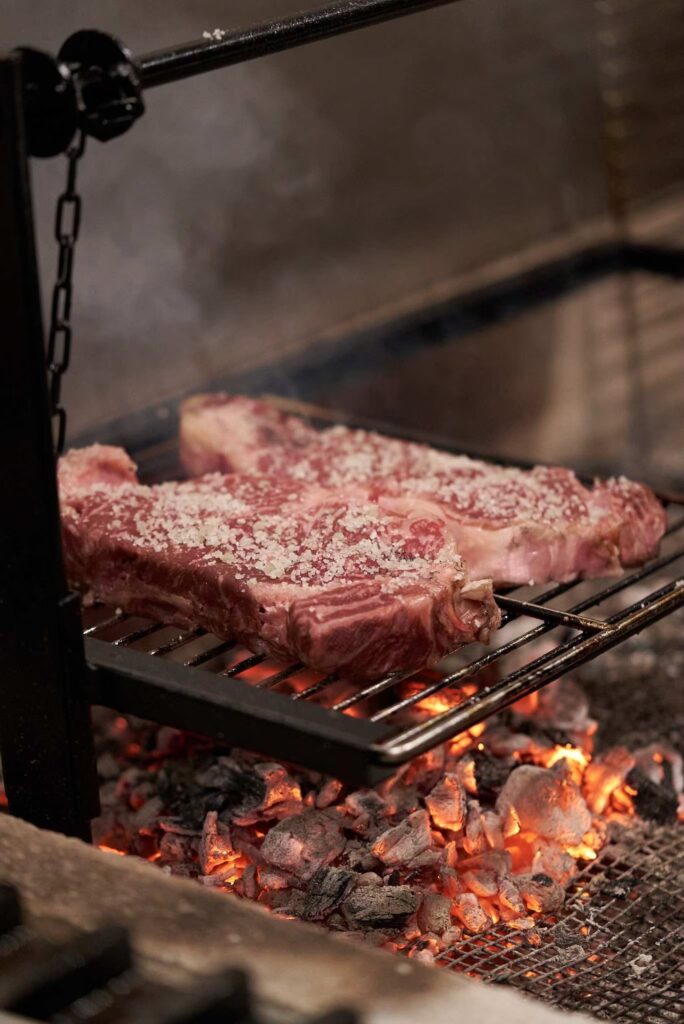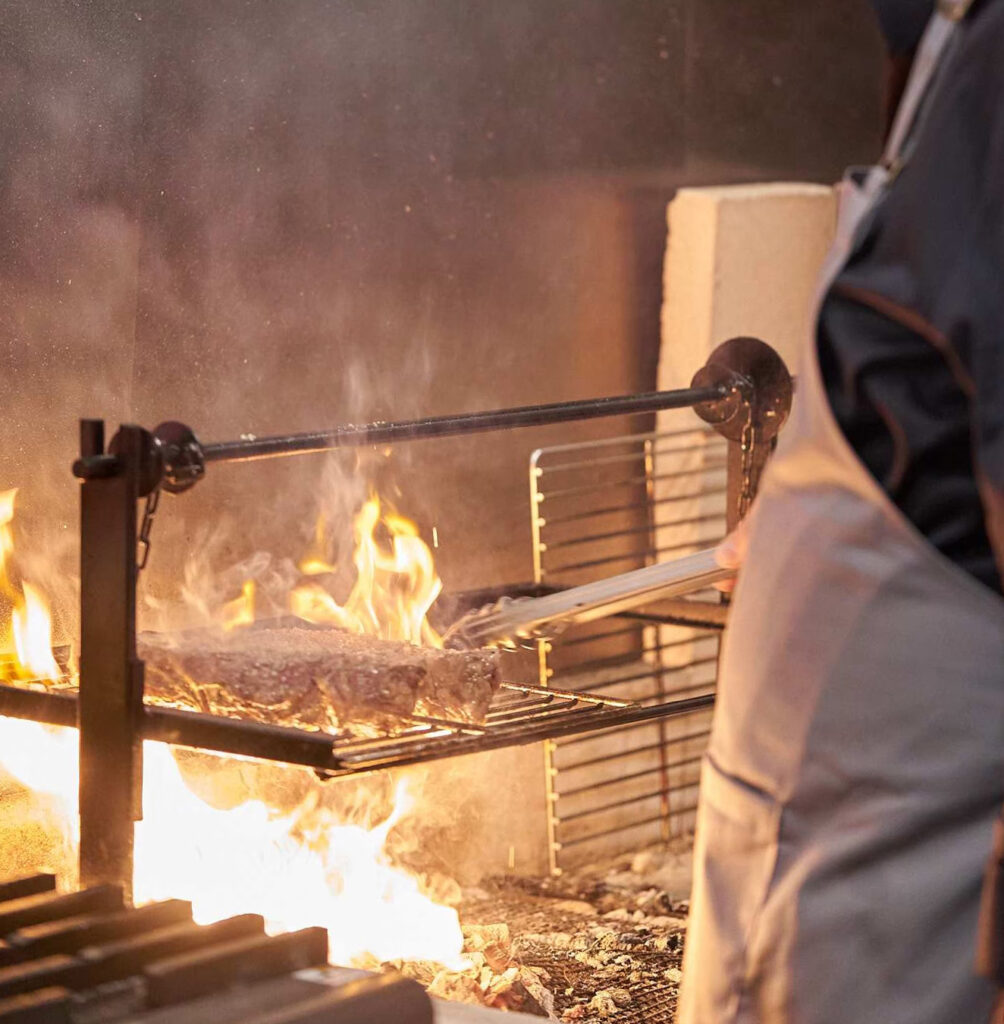 These enormous rib steaks are viewed by many epicureans as the best beef for steaks. The cows from Basque are reared based on a strict grass diet till 15 or 16 years old and are slaughtered when they reach 18 years old. This allows it to have a full, happy life which also results in a huge impact on both marbling and stronger flavour of the meat. Comparing to Wagyu, which is also another fine meat that Chef Maeda loves to use, it has a more flavourful and compliments very well with the wood-fire char.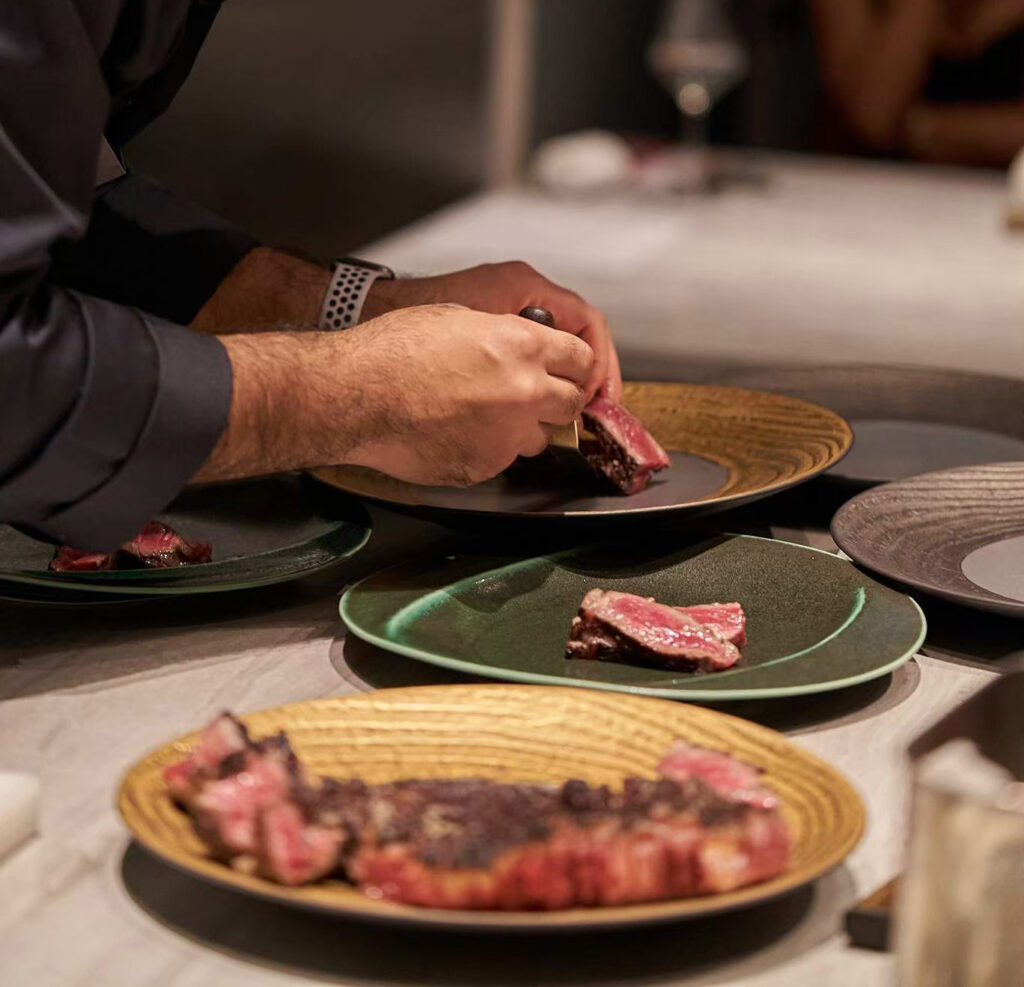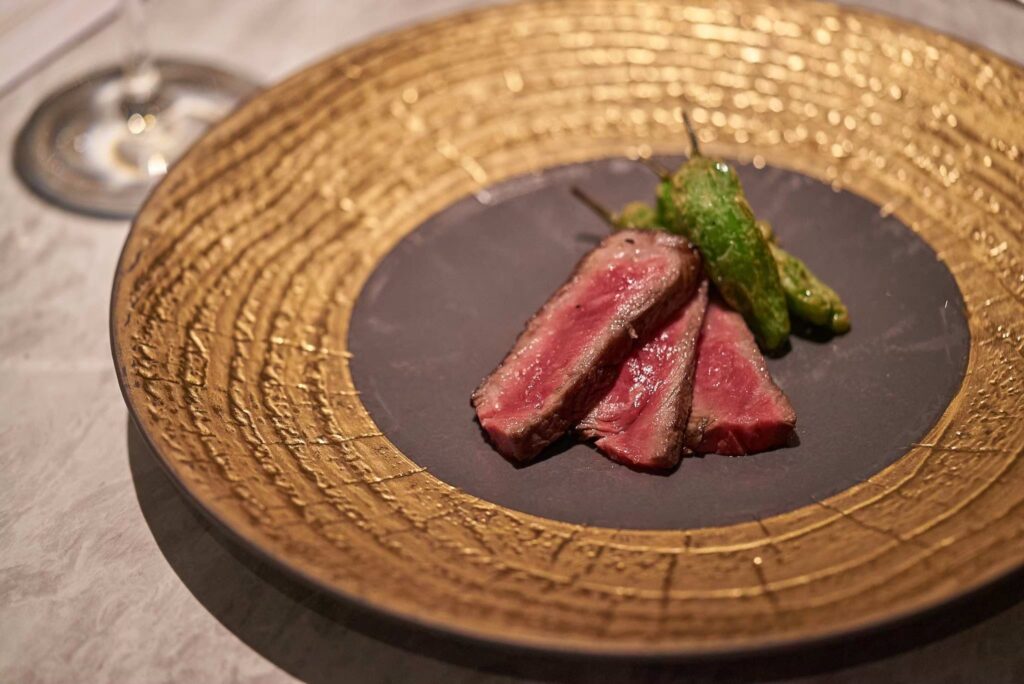 Spanish dessert is known to be flavourful, fun, colourful, and sometimes edgy.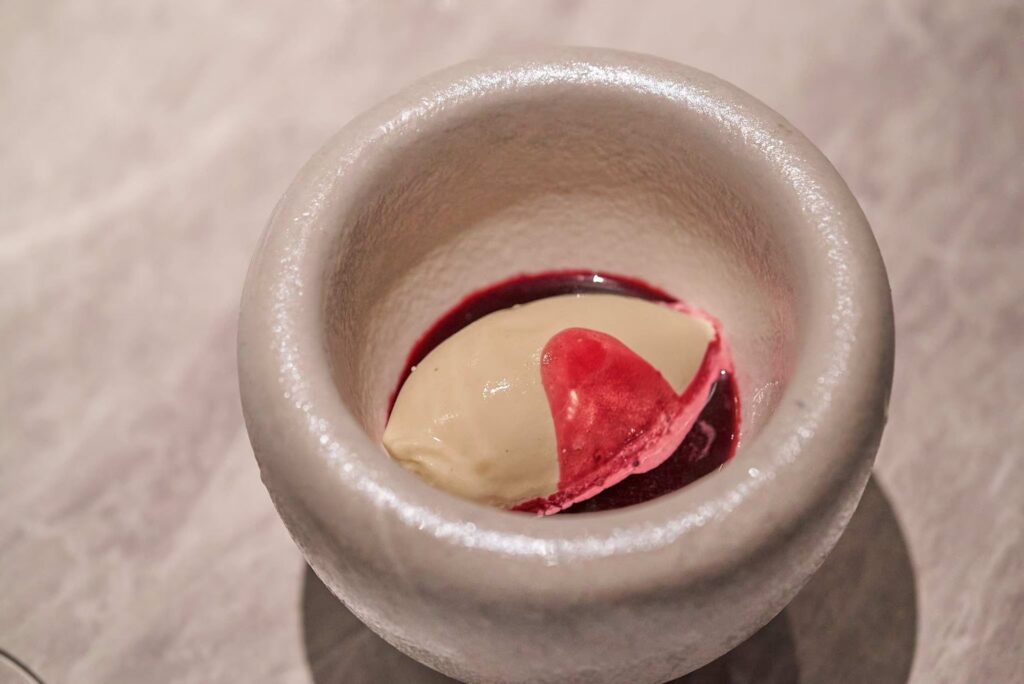 Don't let its appearance trick your eyes! Most people would guess this is a vanilla flavoured ice cream with berry sauce. But it's actually a goat's milk and beetroot! This unusual combination surprisingly goes super well with each other, you have to try it for yourself!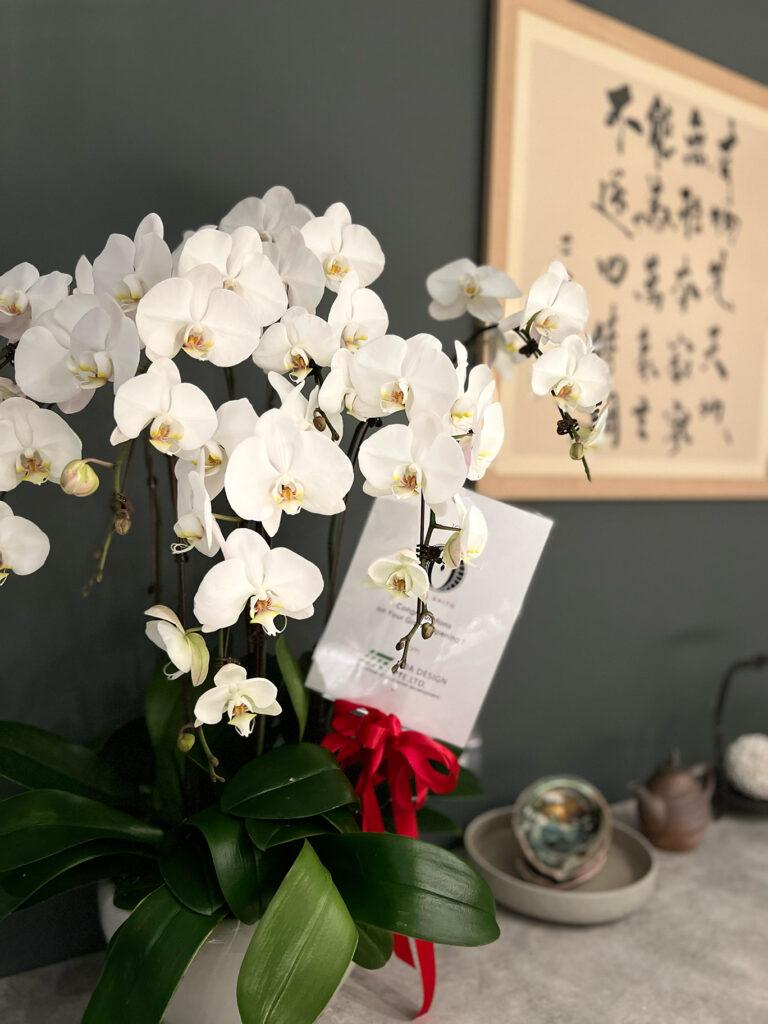 Our course for tonight has come to an end, but our gastronomic journey has just started. Get ready for our next event filled with indulgence and delight!
For those who have missed the fun this time, we have regular events throughout the year! please checkout our website or follow our Instagram for our future event updates.
Follow Us: WABI-SABI Dining Instagram
Location
WEEK2: In Temasek, City of the Sea
https://www.masasaito.com/
6A Shenton Way, OUE Building Downtown Gallery #01-04, 068815
Call Us: +65-8126-2395 or WhatsApp