Special Collaboration Event with Chef Yamashita, Michelin-star chef from Whitegrass @WABI-SABI Dining.
About this Event
We welcome Chef Yamashita, Michelin-star chef from Whitegrass, who will join forces with Chef Terashima team from WABI-SABI Dining to create an intimate and imaginative four-hands dining experience which transcend cultural boundaries of Italy, French and Japanese. Using only the freshest seasonal ingredients as the season transition from late fall to winter to showcase the best the nature has to offer to our guests.
Don't forget to enjoy the gastronomical nights with carefully curated wines by our very own Sommelier at WABI-SABI Dining.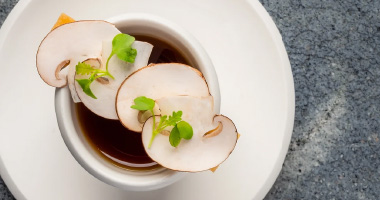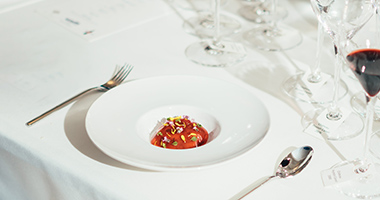 Event Schedule
The event will be held over two days at WABI-SABI Dining. The course is limited to 12 participants each on both days.
| | | |
| --- | --- | --- |
| November 28th | 7:00PM to 10:30PM | 12 PAX |
| December 5th | 7:00PM to 10:30PM | 12 PAX |
Wine Pairing Dinner
"Omakase" menu incl wine pairing : $680 per person.
Menu
1. Amuse
Uni / Carrot / Consomm
Pecorino toscano Madeleine
Jerusalem artichoke / Caviar
Larmandier Bernier Latitude extra Brut Blanc de Blancs
2. Sawara
Orange / Tomato
3. Carabinero
Tarragon
Remelluri Rioja Blanco 2017
4. Venison
Polenta / Chocolate
Kenzo Estate Rindo 2018
5. Kue
Seasonal Mushroom / Black truffle
Aurelien Verdet Nuits Saint Georges 2017
6. Pigeon
Sauternes / Winter spinach
Roagna Pira Barolo VV 2013
7. Setoka
Litchi / Mango
8. Paris–Brest
9. Mignardises
$680++ PER PERSON
Location
https://wabisabi-dining.com
207 River Valley Road #01-60 UE Square 238275
(Mohamed Sultan Rd side)
Call Us: +65-8126-2395 or WhatsApp
Chefs and Sommelier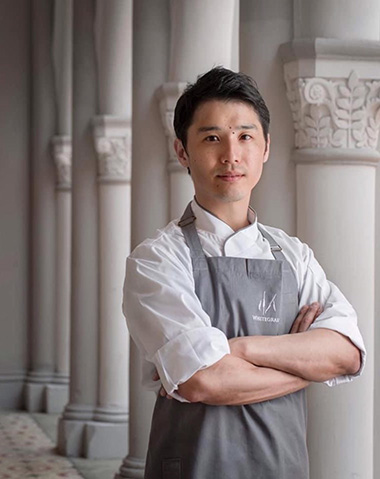 Takuya Yamashita
Michelin-star chef from Whitegrass
Born in 1986, moved to Tokyo at the age of 20 when he started his journey of French fine dining and gain tremendous experience from various restaurants such as Kojimachi "Au Provenceau", Kagurazaka "La Matiere", Patisserie "Yu Sasage", etc. Moved to France at the age of 28. He spent two and a half years at "Étude" in the 16th street of Paris and "Les enfants rouges" in the North Marais. After returning to Japan, he worked at "Ciel et Sol", a one-star restaurant in Shirokane, and became the head chef at "Whitegrass" in Singapore in May 2019 and was awarded one Michelin star in 2021 and 2022 consecutively.
Atsushi Terashima
Chef @ WABI-SABI Dining
Atsushi Terashima was born in Nagano, Japan in 1975, and moved to Tokyo at the age of 18. After graduating from college, he started at Italian restaurant "Osteria" in Roppongi at the age of 23, where he fell in love with Italian cuisine. After working at "Canoviano" in Daikanyama, he then decided to pursue his passion from the origin — Italy at the age of 26. After spending two years at the first 3-star "Don Alfonso" in southern Italy and the 2-star "Arnolfo" in Siena, he returned to Japan and opened his very own Italian restaurant "L'oasina" with his friend in Minami Aoyama. In 2019, he brought Japanese-pizza restaurant brand to Singapore, and then joined Wabisabi Dining as a head chef in 2021.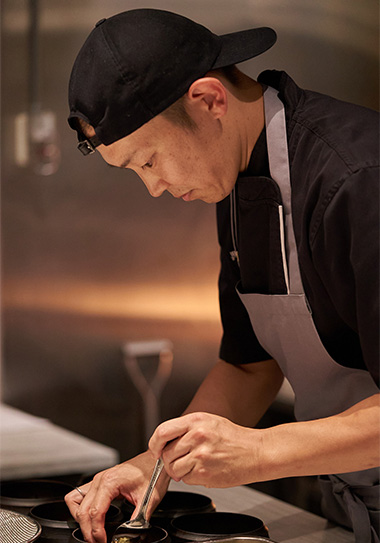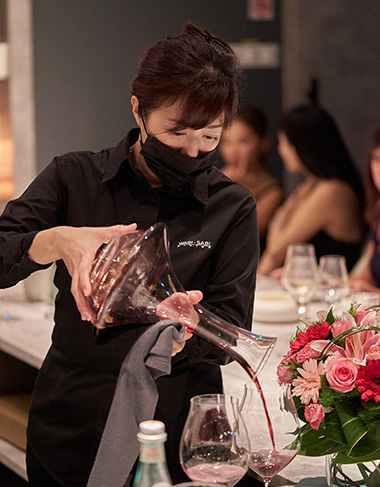 Chiyomi Kawai
Sommelier @ WABI-SABI Dining
While working at the WineBar in Ginza, Chiyomin was one of the most excellent disciple of Shinya Tasaki, the first Japanese to win the World's Best Sommelier Coeur Coeur d'Or in 2005.
She then received his sommelier certification in 2006 and came to Singapore in 2011 to work as a sommelier.
Since 2015, she became the head of sales of Kenzo Estate Wine for Asia Pacific region. Kenzo is a Napa Valley winery owned by Kenzo Tsujimoto, the founder of Japanese video game company Capcom. We are honored to have Chiyomin joined Wabisabi Dining as the Chief Sommelier from 2021.